Glorious Sukhavati Realm of Buddha Amitabha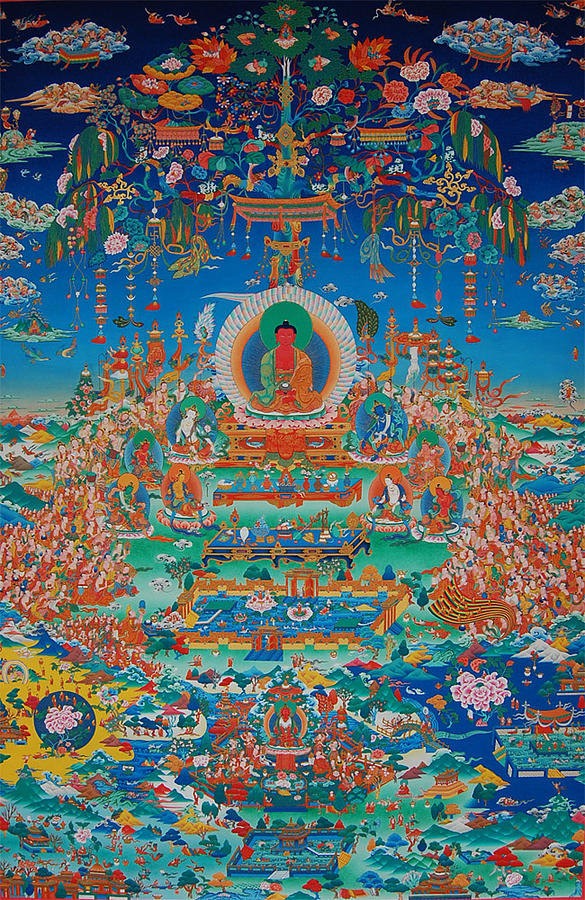 Main Lecture
Listen (2 hours 36 minutes) click play to start the player then choose your section.
Question/Answere
Listen (1:16 hours) click play to start.
Reciting Amitabha Holy Name to Reborn Dewachen Land
(Recite three times)
OM SAMBHARA SAMBHARA BHI MA NA SA RA MAHA DZAMBHA BA HUNG PHAT SO HA
Refuge
SANG-GYE CHO DANG TSOG KYI CHOK NAM LA
JANG-CHUB BAR-DU DAK-NI KYAB-SU-CHI
DAK-GI JIN SOG GYI-PAI SONAM KYI
DRO-LA PHEN-CHIR SANG-GYE DRUB-PAR SHOG
Bodhicitta
SEMCHEN THAM CHET DEWA DANG DEWAI GYU DANG DEN PAR GYUR CHIG
DUG NGAL DANG DUG NGAL GYI GYU DANG DRAL WAR GYUR CHIG
DUG NGAL MED PAI DEWA DAM PA DANG MI DRAL WAR GYUR CHIG
NYE RING CHAG DANG NYI-DANG DRAL-WAI TANG-NYOM TSE-MED-PA LA NAY PAR GYUR CHIG
Listen to Amitabha chanting by Hungkar Rinpoche.
(Recite as many as you can)
CHOM DEN DEY DEY SHIN SHEG PA DRA CHOM PA YANG DAG PAR DZOG PA'I SANG GYE GÖN PO ÖD PAG TU MED PA LA CHAG TSAL LO CHÖD DO KYAB SU CHI'O
To the conquer, the Thus Gone One, the Foe Destroyer, the Completely Perfect Buddha Protector Boundless Light, I prostrage! I make offerings! I go for refuge!
Dedication
JAM PAL PA WO JI TAR KEN PA DANG
KUN TU ZANG PO DAY YANG DAY SHIN TAY
DAY DAG KUN GYI JAY SU DAG LOB CHER
GAY WA DI DAG THAM CHED RAB TU NGO
Just as the Omniscient, Heroic Manjushri and
Kuntuzangpo have done,
So too shall I, by following and training accordingly,
Thus I dedicate all of this virtue!